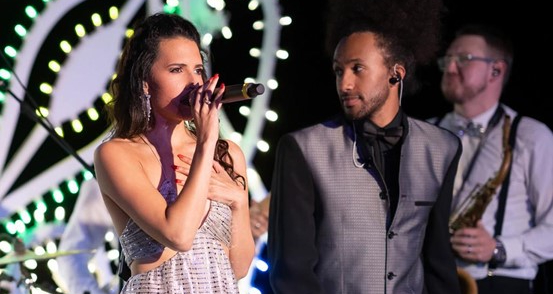 TIPS ON HOW TO GET YOUR GUESTS ON THE DANCE FLOOR – LOS ANGELES WEDDING BAND PLAYLIST
A sign of a good wedding is when the dance floor is filled with laughter, dancing and of course, all your guests!
There are certain songs that never seem to disappoint, whatever your crowd, but when putting together your playlist, how do you ensure those tunes keep your guests entertained all night long?
We enlisted the help of Matt Taussig, our founder, who has organised bands at over 500 luxury weddings & parties. With his tips and insight on how to rock your wedding, you can pick the songs that guarantee success.
VIVA rarely plays one song from start to finish. Instead they maintain super-high energy throughout by mashing songs into medleys (only playing the best parts). With this approach, the set becomes a slick show full of choreographed dancing, and the dance floor is always filled for the full two hour set. Carefully placing classic hits with current chart songs is the best way to please an eclectic wedding crowd of carrying ages and nationalities.
We asked Matt to pick 5 of his favorite fail-safe wedding songs for 2021/22:
Shawn Mendez & Camila Cabello's "Senorita" is a brilliant upbeat international hit which features a vocal duet from both our male and female singers.
Maroon 5's "Sugar" has been a huge hit around the world and the music video alone is perfectly fitting for a first dance song!
Earth, Wind & Fire's "September" – How can you beat this uplifting and grooving David Foster classic?
Amy Winehouse's "Valerie" – Seeing as our lead singer went to school with Amy, we often include this surefire classic.
Jason Derulo Medley – We feel his songs go slightly under the radar, so we created a unique 7 minute mash-up of his biggest hits, including, "Wiggle", "Talk Dirty", "Watcha Say".
We then asked Matt for 5 secret VIVA songs which always go down a storm.. Some may surprise you:
Oliver Cheatham's "Get Down Saturday Night" – Can be mashed-up with several other songs to create a nice medley
Drake "One Dance" – again, our unique version and take of this recent hit.
Our own unique version of the Elton classic, "Bennie & The Jets" – you can't help but dance to this!
Touch The Sky – Kanye West / Curtis Mayfield
Genuine's "Pony" can be seen as slightly cheesy, but you won't feel that once you witness the Viva full band version!
We work with all our couples to ensure the playlist is totally unique and specific around their requests and use our years of experience to guide. We hope Matt's song suggestions provided some useful insight into Viva and we very much look forward to working together!