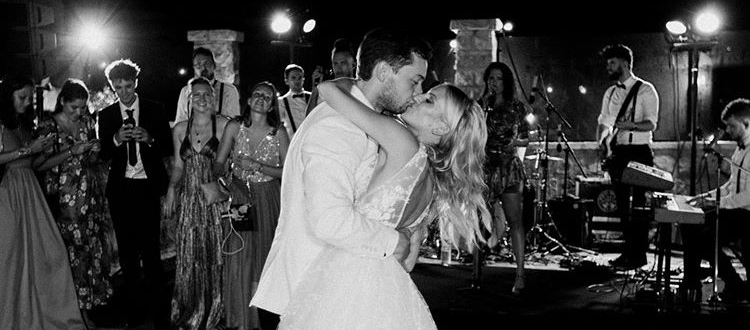 In early March 2020, many countries issued a recommendation to cancel all gatherings. Since then, this has gravitated into many local and national lockdowns, rendering large weddings, parties and events, near impossible throughout 2020.
As a result, nearly all engaged couples have been forced to re-organize their wedding date to 2021 or beyond. We have prepared some general advice and guidance with this in mind:
KEEP CALM
First things first, do not panic. While the current situation is unprecedented, the vendors you have booked are likely seasoned event professionals. They are accustomed to solving challenges and working under pressure. Lean into them, and together you will be on your way to a fantastic Plan B.
Here are VIVA, we have we have dropped all postponement fees, so if you're event is affected by Covid-19, you can pick a future date of your choice and we will move the band booking across for free. In this regard, new couples can also book with confidence knowing that we have your back, no matter what!
INCREASE THE ODDS OF RESCHEDULING ALL OF YOUR CHOSEN VENDORS
According to Wedding Wire, the average couple is engaged for 15 months – with over 85% of couples discussing their wedding preferences prior to getting engaged. Couples forced to postpone their 2020/1 weddings must now compete with everyone trying to reschedule, in addition to those couples who already booked their 2021 weddings. For this reason, it can be challenging to find a new date that works for every vendor you have chosen. However there are some strategies that may help –
Weekdays
According to data from the 2018 Real Weddings study conducted by The Knot, only one in five weddings take place Monday to Friday.
Off peak Season
Generally wedding suppliers in Europe have far greater availability in November, January, February & March.
Do Not Delay
There are only a finite number of weekends in any given year. While some vendors can scale and book multiple weddings per weekend, many cannot. Be decisive when selecting a new date!
Be Flexible
Right now, most vendors are extremely accommodating to couples rescheduling their weddings. To guarantee success, both parties should exercise a bit of flexibility. For example, the original venue you booked may not be available on your preferred reschedule date, but they may have an alternate space that is available and just as lovely.
Couples recently engaged (or soon-to-be engaged) and planning 2021 weddings should also heed this advice. 2021/22 looks set to be the busiest years ever for the wedding industry.
Remember, we are all in this together. Our hearts go out to couples having to scramble to find a new wedding date. Find comfort in knowing that great professional vendors like VIVA understand and are ready to work with you to make your wedding day even more memorable than originally planned!!
We are here to help! Please contact us if you have any Covid-19 questions!